Best Real Estate Agents in Malta and Gozo
Maltese Islands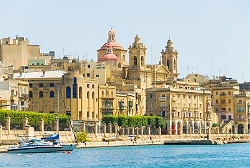 The Republic of Malta is a small European state in the heart of the Mediterranean Sea, with strong historical and business links to mainland Europe and North Africa. The state consists of an archipelago with two main islands, Malta and Gozo, and a smaller, undeveloped island, Comino. The Maltese archipelago is only 93 kilometers south of Sicily and 288 kilometers north of North Africa.
Malta has been a European Union member since 2004 and uses the Euro currency. Tourism is one of the island's largest industries as is the service industry, most especially the financial services sector. Malta is also host to the large number of online betting and gaming firms, most with international player bases.
There are a large variety and choice of properties in Malta and Gozo. The islands' property industry is booming and investment properties in Malta and Gozo are very popular with locals and expats alike.
The bustling business centres of the island of Malta can be found along the central northeastern coast in the towns of Sliema, St Julians, Gżira and Msida. You can find different properties here, from apartments in Gżira and Msida, ideal for the young office worker or young couple, to houses in Sliema, ideal for a family. St Julians is the entertainment capital of Malta and many properties are available here too, especially as it is close to many of the service industry firms.
In the central parts of the island, in towns and villages such as Żebbuġ, Siġġiewi and Dingli, a number of larger properties may be found. Houses and townhouses, some old enough to be considered 'of character' can be seen here. These areas are quieter than the hustle and bustle of the business districts, yet are still relatively close, as distances in Malta are not that long. These villages are also closer to the green areas of Malta.
Seaside villages such as Mellieħa, Buġibba and Baħar iċ-Cagħaq offer delightful houses and apartments, many with remarkable sea views, and extraordinary value for money. Many of these properties can be rented out, especially during the peak tourism seasons.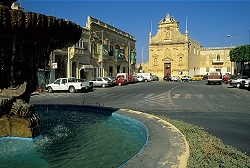 Gozo is the second largest island of the Maltese archipelago and is reputed to be a quiet, low key and unspoiled location to buy property in. Countless celebrities and VIPs own or rent homes in Gozo, particularly those seeking a private, luxury get away.
The different villages in Gozo are home to varying types of properties. Marsalforn and Xlendi, the main summer vacation villages offer apartments, often with magnificent sea views, in bustling little towns with bars, restaurants, nightclubs and gorgeous seaside walks. Gozo's most prized properties are houses of character and large farmhouses. Many of these properties also include land and feature swimming pools as well as stunning views of valleys, countryside and the Mediterranean sea.
The heart of Gozo is the town of Victoria, named after the great monarch. All the amenities can be found in Victoria, which is also home to the Cittadella, the inner fortified circle of the town, atop one of Gozo's many hills.
Other large villages such as Xagħra, Nadur, Qala and Żebbuġ are also property hot spots, each with their distinct panoramas of valleys and lush greenery, as well views of the sea. The smaller Gozo villages of San Lawrenz, Munxar and Kerċem also offer apartments, as well as houses, especially houses of character and large farmhouses.
Giovanni Real Estate(GOZO) can help you with your property search and answer your every question. We are based on the ground here in Malta and Gozo and know the good properties to look for. Whatever your needs are, we can help you find your ideal home or property investment.