Buying property in Malta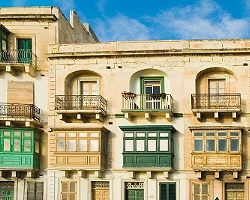 Buying a property in the Maltese Islands is a rather simple set of proceedings provided you are well informed. This applies to the purchase of all kinds of properties, from apartments to let to villas, townhouses and houses. Here are some hints and tips we've picked up over the years.
When buying a property in Malta and Gozo, the first step is to draw up a contract for a promise of sale, sometimes called a convenium. The convenium will be signed in the presence of a notary, often of the prospective buyer's choosing. A convenium is basically a preliminary agreement and is normally valid for three months. When the convenium document is signed a deposit is paid by the buyer, normally equivalent to 10% of the overall purchase price of the property.
Meanwhile, the purchaser will be able to present a copy of the contract to his bank in order to obtain the necessary financing (if applicable). It is advisable that in consultation with an architect, a detailed survey of the property in question is carried out. This will help evaluate the structure conditions while making sure the property is in line with all building regulations. Any breach or else will make the buyer liable after the sale has been concluded.
During the convenium period the buyer can present the promise of sale in a bank to obtain any necessary financing to purchase your property. We also advise you to consult with an architect, who can prepare a detailed survey of the property. This will include an evaluation of the structure and its condition and ensure the property is in line with all building regulations. This is wise as if any irregularities are present, the new buyer will be liable to them.
If you are selling a property in Malta and Gozo, it is advisable to make sure that all the relevant papers and permits are in order during the convenium period. It is also the time to honour any agreements with the buyers, such as works, alterations or finishing.
At the end of the convenium period, provided all agreements are fulfilled and disputes settled, the buyer pays the remaining balance due and takes ownership of the property. The seller presents the keys of the property to the new owner and the notary will register the transfer of property at the Maltese public registry. Needless to say and especially if you have any questions or doubts, prior to finalizing any property purchase, it is advisable to consult a lawyer.
Giovanni Real Estate will help you with these proceedings and guide all along the way to make sure that everything conforms to the letter of the law and make your property buying experience as easy and hassle free as possible.